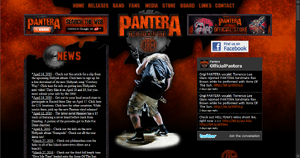 www.pantera.com is the official website of Pantera. The website offers various features.
Releases (page for referencing Discography and Videography)
Band (page for band member bios)
Fans (page for buttons, links and banners to link to Official Pantera related sites)
Media (page for links, magazine articles and other various forms of media up to date and archived)
Stoere (Official Pantera merchandise store)
Board (Official Pantera forum)
Links (Links to affiliates)
Contact (Page for contacting various people and sites)
External Links
Edit
Ad blocker interference detected!
Wikia is a free-to-use site that makes money from advertising. We have a modified experience for viewers using ad blockers

Wikia is not accessible if you've made further modifications. Remove the custom ad blocker rule(s) and the page will load as expected.