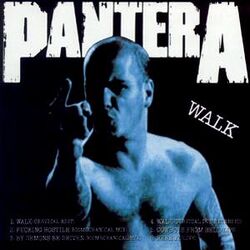 Pantera released a number of EPs for the song "Walk" in 1993. It was a Japan release only.
Album Information
Edit
This EP contains 6 songs. The First 4 are remixes from the Vulgar Display of Power album, while the last 2 are live tracks from Cowboys From Hell.
Based purely on length, this recording is considered an EP. There are also the parallel releases Walk Biomechanical and Walk Cervical, which are singles, not EPs, owing to their total length.
While this was only a Japanese release, it was also released as Disc 3 in the Driven Downunder Tour '94 – Souvenir Collection box set which was released in 1994.
Standard Tracklisting
Edit
Ad blocker interference detected!
Wikia is a free-to-use site that makes money from advertising. We have a modified experience for viewers using ad blockers

Wikia is not accessible if you've made further modifications. Remove the custom ad blocker rule(s) and the page will load as expected.