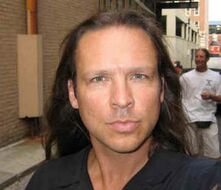 Terrence Lee Glaze (born November 29, 1964 in Columbus) is an Ohio-born and Texas raised singer who is most well known for his work in American heavy metal band Pantera during their glam metal years, and Lord Tracy.
Terry was a member of Pantera for the band's "glam" days, from 1981-1986. Terry's vocal range caught the eyes and ears of many record label A & R's and therefore Terry was credited for bringing Pantera to the forefront of heavy metal music, but a dispute in the band's direction led to Terry's departure. Pantera went through several more singers before former Samhain and Razor White vocalist Phil Anselmo joined the band for 1988's Power Metal. Beginning with the 1990 album Cowboys From Hell, the band ascended to heavy metal superstar status until its controversial break-up in 2003.
Terry Glaze's status in the music world had remained unknown to many. Some have even come to the conclusion that he dropped off of the musical map after he parted ways with Pantera; however, this is not true. In 1986 he joined three Tennessee rockers to form the band Lord Tracy, releasing one LP ("Deaf Gods of Babylon") in 1989 on MCA records backed UNI records. The band broke up in 1991 and Terry formed another band, Blowphish, which included Mike Malinin (Goo Goo Dolls). When Blowphish failed to land a major record deal, Terry relocated to Prince Georges County, Maryland. Terry currently plays out locally in Maryland with his party band, The Crayfish, and occasionally gets together with other local musicians. He can often be found in Olivers Olde Towne Taverne in Laurel where he is a regular and sometimes performs with The Crayfish. Terry has also reformed Lord Tracy for the 2007 band line up of "Valve" which include original members Kinley "Barney" Wolfe and Chris Craig, in addition to the 1991 Lord Tracy guitar player Brian Harris.
He currently resides in Maryland with his wife and 2 kids.
Terry has always been a fan of Pantera. In April 2004, many months before the brutal murder of Dimebag, Lord Tracy played a Dallas night club. Vinnie Paul was in attendance and Terry & Vinnie spoke of doing a one time original Pantera line up show. Terry, Rex, and Vinnie remain friends and talk often, contrary to common perception.
In May 2006, Terry appeared throughout VH1's "Behind the Music: Pantera", notable moments include him talking about Darrell being buried with the infamous guitar of Eddie Van Halen, used around the "Van Halen II" era.
Lord Tracy's new album, Porn Again was released September 26, 2008 at The Firewater Bar and Grill in Dallas, Texas.
Discography
Edit
Lord Tracy
Edit
Deaf Gods of Babylon (1989)
Live (2004)
Cull None (2005)
4 (2006)
Porn Again (2008)