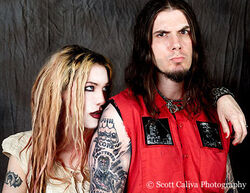 Southern Isolation was a Southern rock group from Louisiana, USA, formed in 1995 by Phil Anselmo and then wife Stephanie Opal Weinstein. The band released one self-titled EP before disbanding following the pair's divorce. An additional unreleased track 'Faded' has been credited to Southern Isolation on the Manson Family Soundtrack which is due to be released on Philip's Housecore Records label.
Studio Lineup
Edit
Stephanie Opal Weinstein - Vocals / Guitar
Phil Anselmo - Guitar / Vocals on "Southern Man I Am"
"Big" Ross Karpelman - Keyboards
Kevin Bond - Bass
Sid Montz - Drums
Discography
Edit
External Links
Edit
Ad blocker interference detected!
Wikia is a free-to-use site that makes money from advertising. We have a modified experience for viewers using ad blockers

Wikia is not accessible if you've made further modifications. Remove the custom ad blocker rule(s) and the page will load as expected.