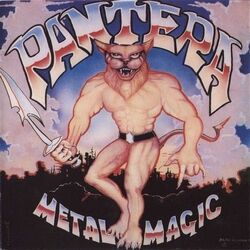 Metal Magic is the first album by the heavy metal band Pantera, released in 1983. Like the band's next three releases, this album was musically oriented toward a hard rock/heavy metal sound influenced by Kiss and Van Halen, rather than the groove metal style they became famous for playing in the 1990s, starting with the release of Cowboys From Hell. It was released on the band's own label (also called Metal Magic) and produced by Jerry Abbott (under the alias "The Eldn'"), notable country music songwriter and producer, and father of Darrell Abbott and Vinnie Paul Abbott.
Tracklisting
Edit
The album also features uncredited keyboard playing in some songs.
Ad blocker interference detected!
Wikia is a free-to-use site that makes money from advertising. We have a modified experience for viewers using ad blockers

Wikia is not accessible if you've made further modifications. Remove the custom ad blocker rule(s) and the page will load as expected.