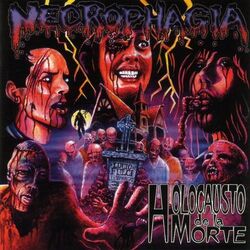 Holocausto de la Morte is the second full length studio album, the third album overall, by the death metal band Necrophagia. It was released in 1995 on Red Stream Records. This is also the first release with Anton Crowley (aka Phil Anselmo) on guitars.
Track listing
Edit
"Bloodfreak"
"Embalmed Yet I Breathe"
"The Cross Burns Black"
"Deep Inside, I Plant the Devils Seed"
"Burning Moon Sickness"
"Cadaverous Screams of My Deceased Lover"
"Children of the Vortex"
"Hymns of Divine Genocide"
Killjoy- Vocals
Anton Crowley - Guitars
Wayne Fabra - Drums
Dustin Havnen - Bass