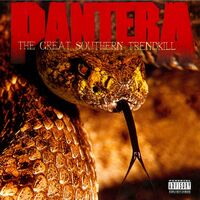 "Drag the Waters" is a song by Pantera from their album The Great Southern Trendkill. it served as its first single.
Darrell Abbott has said that this song "is about a lifetime of dealing with people that you can't tell what they're really comin' at you for, or what their motives really are. You've got to drag the waters to get to the bottom and find out the truth."
"Drag the Waters" is a warning to the listener to always question other peoples motives. In fact, the music video starts off with a warning by an unknown male voice that says 'In everyday life, there is more than meets the eye. To reach the depths of truth, we must drag the waters'.
Apearances
Edit
Single Tracklisting
Edit
"Drag the Waters"
A smack on the wrists is the words from the mouth
of the outsiders, lawyers, police
A small price to pay for the dope and the guns
And the rape, it should all be O.K.
Your father is rich, he's the judge, he's the man,
he's the God that got your sentence reduced
But in the back of his mind, he well knows what
he'd find if he looked a little deeper in you - in you

Drag the waters some more
Like never before

Drag the waters some more
Like never before

Sweet is the slice and the lips - you're gonna have
that woman - she is your favorite lay
Promised you (swore) that no one had been there,
and she was going to keep it that way
Let it move in, you got thin, and got high, and
your money went and so did your friends
But she's by your side, and her smile cannot hide
the premonition of the beckoning end - the end

Drag the waters some more
Like never before

Drag the waters some more
Like never before

In with it, out with it

"Drag the Waters" is one of the few Pantera songs to feature the cowbell, another being "Revolution is My Name".
Ad blocker interference detected!
Wikia is a free-to-use site that makes money from advertising. We have a modified experience for viewers using ad blockers

Wikia is not accessible if you've made further modifications. Remove the custom ad blocker rule(s) and the page will load as expected.