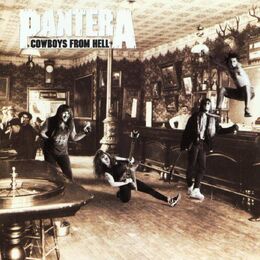 Cowboys From Hell was Pantera's fifth studio album, released on July 24, 1989. It was Pantera's major label debut, as the album was picked up by Atco Records and produced by Terry Date. Sonically, this album was a vast departure from their previous four releases, that were more of a glam/power metal sound. This album incorporated a variety of influences, such as thrash metal and groove metal.
Tracklisting
Edit
Ad blocker interference detected!
Wikia is a free-to-use site that makes money from advertising. We have a modified experience for viewers using ad blockers

Wikia is not accessible if you've made further modifications. Remove the custom ad blocker rule(s) and the page will load as expected.