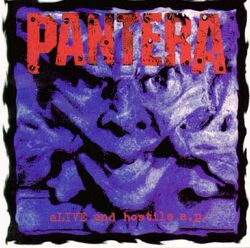 Alive and Hostile EP (styled as aLIVE and hostile ep) is a live EP by Pantera, released by Elektra Records on 29 April, 1994. It was released as part of the 3 disc box set Driven Downunder Tour '94 Souvenir Collection in Australia only. It contains 5 live tracks that were recorded at the 1991 Monsters of Rock festival in Moscow, Russia.
Additional Information
Edit
The concert at which the live tracks were recorded featured a Russian band called E.S.T., The Black Crowes, Pantera, Metallica and AC/DC. The concert was made into a video called 'For Those About to Rock: Monsters in Moscow' and was released on VHS. Pantera's set was featured as bonus footage on the '3 Vulgar Videos From Hell' DVD.
Tracklisting
Edit
Ad blocker interference detected!
Wikia is a free-to-use site that makes money from advertising. We have a modified experience for viewers using ad blockers

Wikia is not accessible if you've made further modifications. Remove the custom ad blocker rule(s) and the page will load as expected.