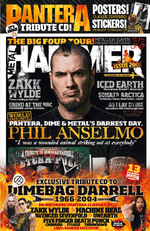 Getcha Pull!: A Tribute To Dimebag Darrell is a Pantera tribute album presented and released by UK's Metal Hammer magazine. It was released in the January 2010 issue which was also the 200th issue since the magazine was founded. In addition to the album, the magazine features an article and interview with Phil Anselmo about the events that lead up to the murder of Darrell Abbott. Ironically, Metal Hammer published the interview in which Anselmo had tongue-in-cheekly stated that "Dimebag deserves to be beaten severely", which many cite as a catalyst to the event.
The tribute album is also in conjunction with the 20th anniversary release of the Cowboys From Hell album and around the time which marked the sixth anniversary of Abbott's death.
Tracklisting
Edit
Zakk Wylde was a close friend of Dimebag's. His cover can be seen as an homage to his dead friend even though the song he covered referenced premature death.
Machine Head wrote a song entitled "Aesthetics of Hate", which calls out a journalist who called Dimebag's murder irrelevant to anyone's interest.
Avenged Sevenfold and other artists on the album have often cited and sought influence from the band.
Biohazard is often lumped into the same genre and music movement as Pantera.