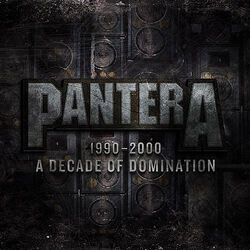 1990-2000: A Decade Of Domination is a best of compilation by Pantera. It spans the ten years the band was active in the 1990s with their most popular songs being included (mostly singles). It was released through Wal-Mart stores exclusively in 2010.
Tracklisting
Edit
Ad blocker interference detected!
Wikia is a free-to-use site that makes money from advertising. We have a modified experience for viewers using ad blockers

Wikia is not accessible if you've made further modifications. Remove the custom ad blocker rule(s) and the page will load as expected.